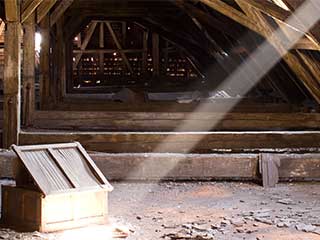 Why Is It Important?
Regular attic cleanings aren't just to take care of it looking messy, there are far more vital reasons to get it done! The dust can get sucked into the ducts of your home while the air circulates through them and get trapped, clogging them up over time. This slows air flow and means it takes longer for heating and air conditioning to make it all the way through your home to keep things comfortable, leading to higher energy spending and wasted money. It also contaminates the air as well, which then is spread through your household to cause severe allergy symptoms even indoors and can be a huge problem for those with breathing difficulties or disorders. Debris in your attic also makes it look enticing for pests to settle in, and rodents will destroy insulation for nesting, along with belongings. Their waste carries diseases as well and can easily make their way into your home. Mold may also start growing because of a dirty attic, which will eat away at everything inside it.
What Should You Look For?
Aside from the fairly obvious sign of seeing a thick layer of dust in your attic, you may also notice droppings or odd greasy looking spots if rodents are present. There might also be a foul odor present when nearby. Mold may be visible through brown and green discoloration on wood or anything else in the attic. If your energy bill is rising, this can mean that your ducts are clogged up or even indicate insulation damage from rodents. Noticing that anyone in your home is experiencing harsh symptoms of allergies or otherwise indoors is another indication it's time to call our professionals.
Let Us Handle It!
Our experts will be at your place before you know it and use the highest quality equipment available to get your attic completely cleaned. We'll do so quickly, but thoroughly to ensure it will stay that way for a while.
Contact Us Today!
Call Attic Cleaning Sunnyvale now and get your attic pristine again!
Need more? We also provide:
Mold Removal & Prevention
Crawl Space Waterproofing